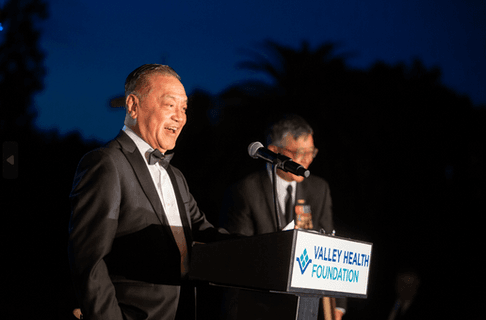 Valley Health Foundation Tribute to Heroes
What a night celebrating our health and healthcare heroes! Thank you so much to everyone who was a part of our 2023 Tribute to Heroes Gala. We can think of no better way to spend a lovely Saturday evening than with amazing people, delicious food and wine,  dancing, and celebrating under the stars.
This year, Valley Health Foundation honored Broadcom CEO, Hock Tan for his generous contributions to the health of  everyone in Santa Clara County. We also honored the dedicated health and healthcare professionals who work tirelessly to ensure everyone in in Santa Clara County has access to the highest quality of care in our public healthcare delivery system. This includes Santa Clara Valley Medical Center, O'Connor Hospital, St. Louise Regional Hospital, numerous community-based primary and specialty care clinics, and other community-based health services, all a part of Santa Clara Valley Healthcare.
As is our tradition, we also honored a very special patient and the exceptional teams who provided compassionate care for him, and for his family, during a very complex illness and related hospitalization. Thanks to generous donors to Valley Health Foundation, he also had access to services and resources that helped to optimize his care, his experience, and return to his life as a fully active nine-year-old boy.  Watch the video below to see his story and learn more about how donations to Valley Health Foundation make a difference in the health of our community.
As the seasons change and we look towards tomorrow, your support ensures better health for all in Santa Clara County, no matter what challenges our community may face. If you missed the event or the opportunity to donate at the event, you still have time.