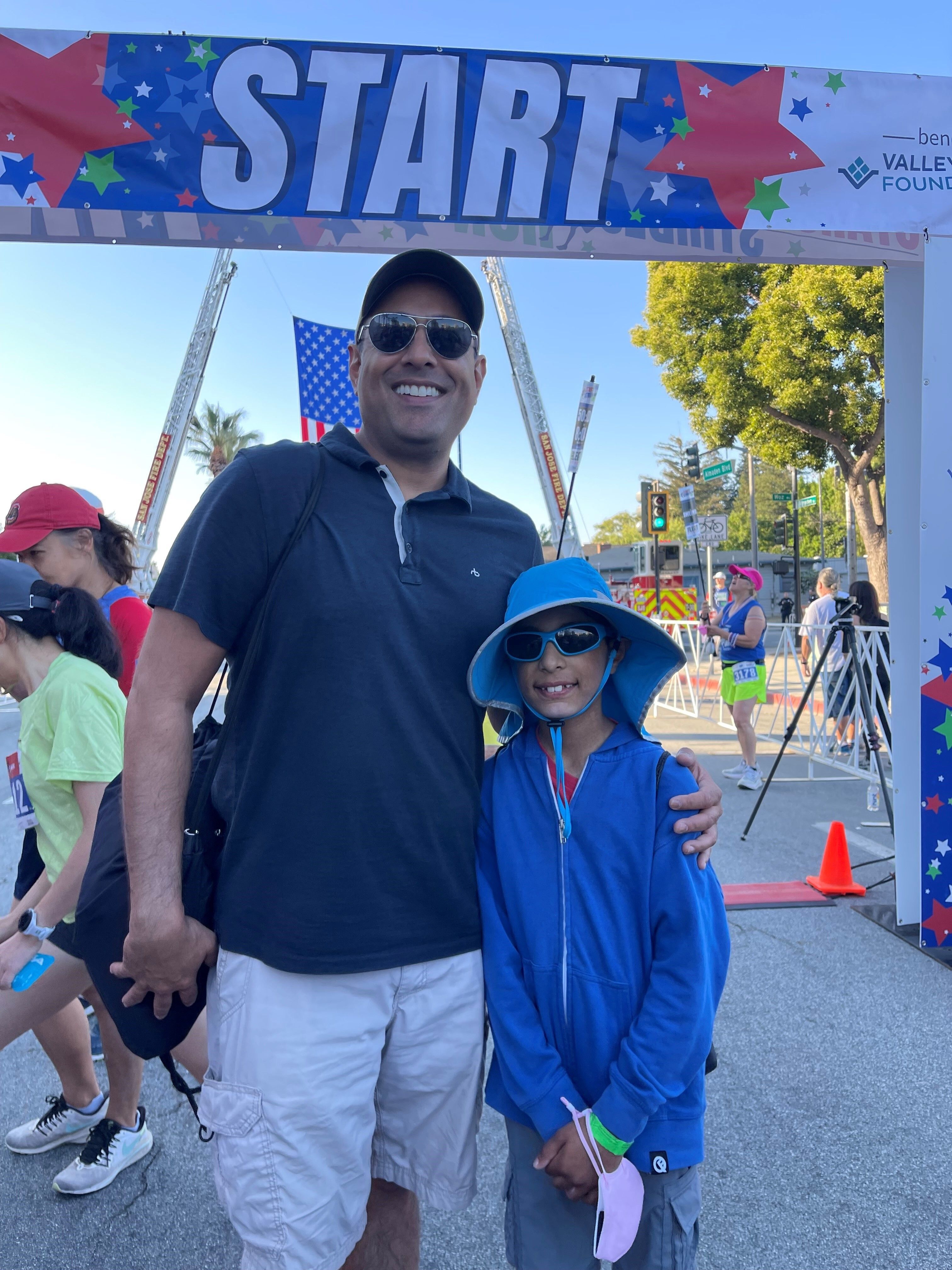 One of Valley Health Foundation's special guests at our Stars and Strides event on Saturday, July 1st, was a nine-year old named Nalin. (He arrived with Wonder Woman in the Santa Clara County Sheriff's helicopter at the event.) Nalin is a very grateful patient who received life-saving care at Santa Clara Valley Medical Center (SCVMC) earlier this year. This expertise and high quality of care is accessible to everyone in Santa Clara County, thanks to the support of generous donors like you.
In January of 2023, Nalin developed a fever and unusual rash which prompted his parents to seek medical attention at a local emergency room.. Nalin was admitted to the hospital and eventually diagnosed with Stevens-Johnson syndrome, a rare and serious skin disorder that can be fatal. His condition quickly worsened requiring highly specialized care only available at SCVMC. Nalin was transferred to SCVMC where expert physicians and nurses from their Burn Center and Pediatric Intensive Units provided patient centered and compassionate life-saving care until his discharge to home, 45 days later.
Throughout his stay, SCVMC's Child Life Specialist (CLS) team was also there for both Nalin and his family, helping them support Nalin's, understand his rare condition and the highly specialized care he was receiving. The CLS team also helped the family prepare for Nalin's return to school and make a book for his class to read to help them understand Nalin's rare condition and support his brave battle to full recovery.
Today, Nalin is doing much better. Nalin, who loves baseball, recently participated in the SF Giants summer baseball camp and has been cleared to participate in most normal activities.
"We are immensely grateful to Santa Clara Valley Medical Center for their unwavering support and commitment to our well-being," Parag Naish, Nalin's father, shared. "During our stay, we realized that SCVMC is more than just a medical facility. It's a community of dedicated professionals who deeply care about their patients. They not only healed our son but also provided us with an environment where we felt cared for and valued."
Valley Health Foundation raises funds to support the patient needs and high-quality care provided by SCVMC's Pediatric Intensive Care Unit, Burn Center, the Child Life Specialist team and many more programs and health services available to anyone in Santa Clara County who needs them.